We started writing about foam fire suppression events several years ago when we noticed trends relating to inadvertent activations of foam fire suppression systems that were affecting our clients. These false activations caused substantial aircraft damage at the outset. In the aftermath, the resultant highly disrupted hangar and flight operations for many private and charter aircraft operators as well as FBO and MRO businesses caused reputational harm and financial pain.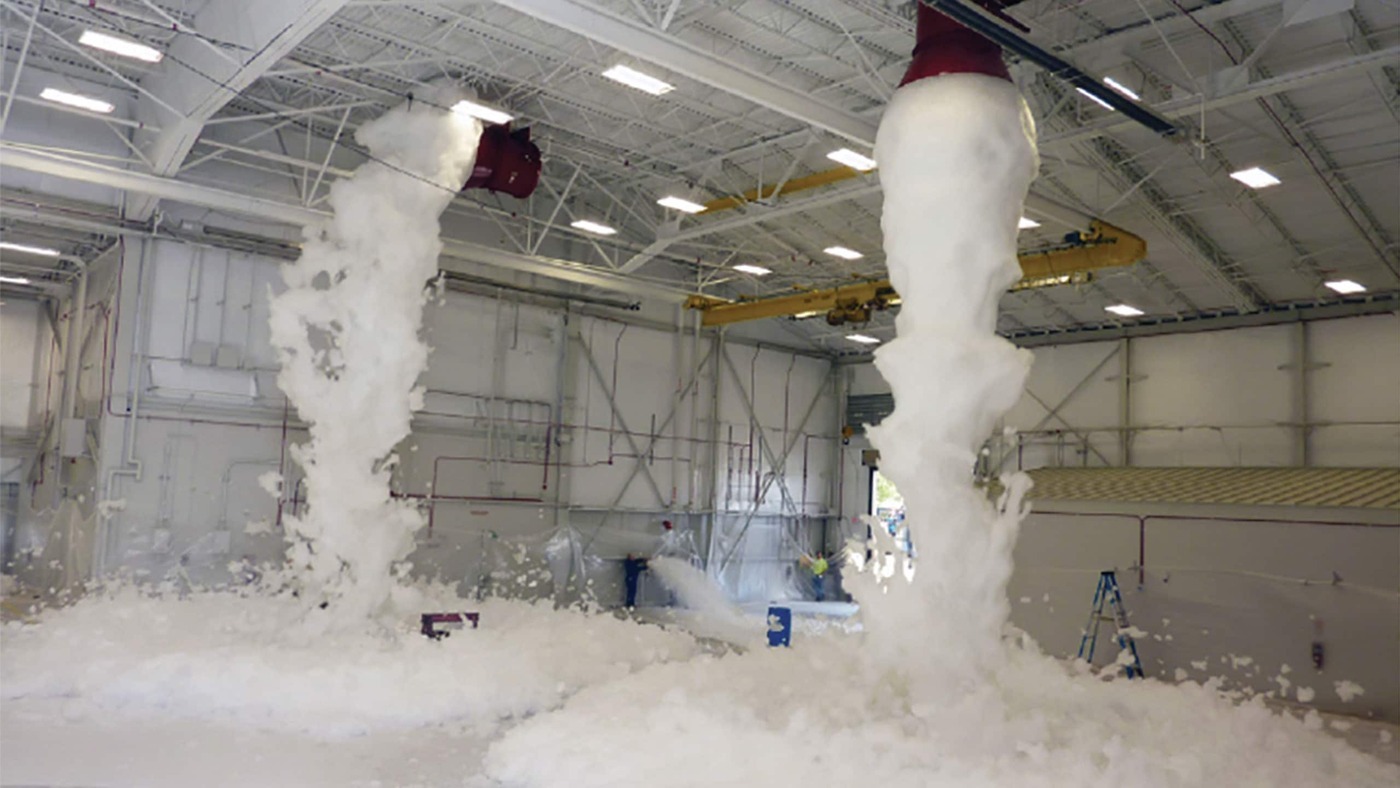 Our clients' frustrations remain. These trends continue unabated and anecdotally seem to increase as a number of our clients have suffered false activations in recent months. Some of these activations were major events with multiple aircraft sustaining damage requiring expensive repairs. We have also observed false activations impacting industry participants beyond our portfolio.
The accidental discharges continue to confound aircraft and hangar operators. Paradoxically, the technological advancements that should be alleviating false activations may actually be contributing to more mishaps. Many false activations can be attributed to electrical component malfunctions often triggered by moisture contamination, electrical surges and poor design for a specific hangar environment. In a way, the advanced technologies appear to make the systems more fragile.
Reduced Fire Protection Requirements Provide Potential Relief Ahead
We are pleased to report that substantial progress has been made over the past year thanks to a number of industry influences, but in particular, due to the advocacy of the National Air Transportation Association (NATA) and its members.
Late in 2021, after many years of lobbying efforts by NATA and others, the National Fire Protection Association (NFPA) agreed to adopt changes to NFPA 409, Standard on Aircraft Hangars-the primary standard for aircraft fire protection in the U.S. and elsewhere.
The standard principally requires automatic foam fire suppression systems to be installed in most general aviation hangars. It was first established in the 1960s, and many have argued it has not kept pace with industry developments in the ensuing 50+ years, becoming out of step with today's modern hangar environment.
To that end, the following changes were approved by the NFPA Standards Council:
An alternative Performance-Based Design approach allowing modification of any part of the NFPA 409 standard
A Risk-Assessment process that allows businesses to propose alternative fire protection schemes with or without foam
Exempting Group II hangars that prohibit hazardous activities from foam requirements
The use of ignitable liquid floor drainage systems in lieu of foam systems
Now, hangar owners (whether existing or new hangars) have an easier path to obtain an exemption for foam fire suppression systems based on the actual risks presented by their specific hangar environment. Furthermore, Group II hangars (generally midsized hangars with door heights less than 28 feet) not engaged in hazardous activities are no longer required to install automatic foam fire suppression systems.
NATA recently released important guidance on how to interpret the NFPA 409 revisions and valuable technical recommendations for reducing false activations. We recommend you review the guidance and consider employing the services of a reputable fire system engineer to help you work through the nuances of how the newly implemented requirements impact your system.
Sustainability Considerations
The reduced burden for automatic foam fire suppression systems and greener foam suppression chemical ingredients are reasons to embrace the future as they help aviation on its path to greater sustainability.
Some legacy foam fire suppression systems deploy PFAS (highly toxic fluorinated chemicals), which are harmful to the environment and still have the potential to do damage in that regard. It was only several years ago that an industry leader was sued for tens of millions of dollars for alleged environmental damage to a nearby metropolitan river (and the attendant commercial fishing industry) following an accidental discharge.
However, not everyone is enamored of the use of less-toxic chemicals. Some observers cite reduced efficacy in rapidly extinguishing a hangar fire, but this is a debate for another day!
In the meantime, we can reflect on meaningful steps forward in creating a more risk-based approach to foam fire suppression requirements. We can also welcome the advent of systems that deploy less-toxic chemicals. Together, these advances create a less significant environmental footprint, even if these are just small steps on aviation's path to sustainability.
About Global Aerospace Global Aerospace is a leading provider of aircraft insurance and risk management solutions for the aviation and aerospace industries. Our over 95 years of aviation insurance experience enable us to develop customized insurance programs structured around the needs of our clients. Recognized for our industry leading customer service, we serve as a trusted partner to a diverse range of aviation businesses and their insurance producers. https://www.global-aero.com/
Global Aerospace Media Contact Suzanne Keneally
Vice President, Group Head of Communications
+1 973-490-8588
Original Source of the original story >> Global Aerospace Provides an Industry Update on Aircraft and Hangar Operators Foam Fire Suppression Systems
This content is published on behalf of the above source. Please contact them directly for any concern related to the above.