Real estate duo have passed a landmark number of $150M in deals - with a unique business model - where almost every deal was generated using digital marketing
TORONTO, CANADA / ACCESSWIRE / December 4, 2019 / Hitting a landmark number of deals seems like a normal announcement in real estate - but the combination of Mich Sneddon and Jason Gray have done it in a different way than most other Real Estate Agents.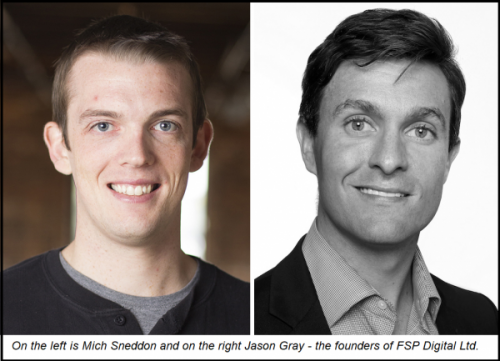 The duo recently announced that they have passed the $150 million mark in real estate and mortgage deals - but there is a unique twist: neither of them have closed many of these deals themselves.
Their success can all be credited to an online marketing and referral business - where they generate the clients online through digital marketing and then refer them to other Real Estate Agents and Mortgage Brokers.
Sneddon and Gray are currently running a number of websites and digital marketing strategies that generate hundreds of closed deals a year and which - in just the last 3 years alone - have led to more than $150 million in funded deals.
In order to share their approach with others, in 2018 Sneddon and Gray decided to launch a groundbreaking marketing agency called FSP Digital Ltd.
The agency's main purpose is to teach Mortgage Brokers and Real Estate Agents how to attain their own online marketing success and take their business to a new level.
Additional offerings will include agency-level services for mortgage and real estate brokerages.
Their first flagship product has already been launched and is seeing great success - the Real Estate Listing System - which teaches Real Estate Agents - who have an existing listing - how to market it so much better that they can literally build an entire business from just the one listing.
Based out of Toronto, Ontario, Sneddon is the Founder and CEO of FSP Digital Ltd., while also holding the qualifications of Chartered Accountant, Mortgage Agent and Real Estate Agent.
'We have been so fortunate to generate $150 million in deals that were almost all generated from online marketing,' said Mich Sneddon. 'It is down to a lot of hard work and a unique way of thinking, so we are excited for the opportunity to share our expertise with other, passionate agents. We'll focus on the marketing - and making marketing simpler for agents - so that they can focus on growing their business and achieving extraordinary results.'
Gray grew up in Guelph, Ontario and as the Co-Founder of FSP Digital Ltd. brings a different experience with his background in Engineering & Design, culminating in his Master's in Engineering.
'This is a great opportunity to help both brokerages and agents become more successful,' added Jason Gray. 'We have received several requests over the years to offer a service like this, so Mich and I are excited to be able to now offer our assistance to anyone who is interested. We are also very excited to be training and educating people - using the experiences we have from running thousands of dollars of online marketing campaigns - so that they too can take their businesses to a whole new level that they never thought possible.'
The accomplishments of Sneddon and Gray have also received national recognition through an ever growing collection of awards that include the: 2019 Build Real Estate Property Award for Most Outstanding Real Estate Marketing Firm, 2018 Canadian Mortgage Awards for Best Newcomer Agent, 2018 Royal LePage President's Gold Level Award, 2018 Dominion Lending Centres Platinum Level Award and 2017 Canadian Mortgage Magazine Award for the Top Mortgage Professionals in Canada Under 35.
'Our goal is to help 1,000 Real Estate Agents and Mortgage Brokers across North America take their business to the next level' added Sneddon.
Contact Info:
Name: Mich Sneddon
Email: Send Email
Organization: FSP Digital Ltd.
Address: 21 Ruttan St Unit 242, Toronto, ON M6P 0A1, Canada
Phone: +1-888-391-1118
Website: https://www.fspdigital.com
SOURCE: FSP Digital Ltd.
View source version on accesswire.com:
https://www.accesswire.com/569022/The-150M-Men--Real-Estate-Duo-Pass-Landmark-Number-With-A-Unique-Approach